ZÜRN GmbH & Co. KG, Oberhaching
Development, production, processing and logistic - one-stop shop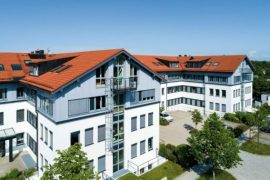 The international ZÜRN group, with its headquarters in Oberhaching, was founded as a trading company over 50 years ago.
The first production facility was established more than forty-five years ago in Niederschönenfeld. The production facility was permanently expanded and also enlarged by the new business unit stainless steel components during the nineties.
In 1995 the acquisition of the foundry in Nova Gorica, Slovenia enabled the ZÜRN Group to offer very professional one-stop shop casting solutions.
The synergy effect between trading, in-house production facilities and linked partner companies results a cost competitive and efficient possibility for the production of castings and casting components, processing, upgrading and assembling of additional components on the casting (e.g. painting or connecting with other materials) and in-house development into complex casting components solutions.
Our costumers are benefitting especially from our in-house development of complex casting components solutions. They are based on technical know how and long time experience and a worldwide operating network.