Office, warehouse and production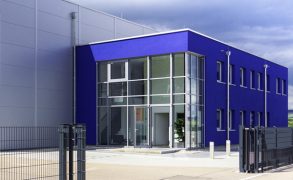 Our new location at rain included a big office complex, warehouse and a stainless steel production.
With the new warehouse store all our products are inside and sure for all weather influence. The second new thing is the many more warehouse capacity. A part of the warehouse have installed a modern high rack, what is a big help for organized all the different type of parts. But not only the storage is new, also our great loading zone with one high adjustable ramps and two lateral guide ramps for a faster unload and pick up makes the work for our employees so much better. The new stainless steel production is a furthermore big increased performance.
Now runs the complete machines all time and thus we can hold the machine time at a very low level. Moreover work the employees in a two-shift-operation for an even better delivery performance.
Our new office complex is over two floors and have place for 20 employers in the different section. With the high quality and newest building materials is for the best comfort during at the work