Testing and certification of our surface boxes according to DIN 3580
In the area of pipeline construction, the surface boxes are exposed to the highest loads due to the connection to the surface. Depending on the installation situation, heavy traffic, clearing vehicles, heat and cold, ice and snow affect the surface boxes. The fittings installed in them should be well protected, the surface boxes should be embedded at road level and the covers should function properly. They achieve this through professional installation, regular maintenance and the delivery of DIN-compliant surface boxes with DVGW certification.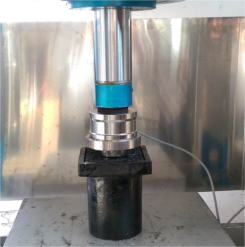 Zürn stands for this quality! In order to guarantee DVGW certification, we test our DIN surface boxes according to the requirements of DIN 3580. In addition, our results are checked and confirmed with external monitoring of our production by a prescribed, external testing institute. Furthermore, we carry out ongoing testing processes during production on a voluntary basis. Only these road caps receive the DVGW marking from us,
The two components cover and housing are tested during the DVGW test. A load of at least 200 kN is required for the cover before material fatigue can occur. Here, a test stamp with a small number of copies is used to simulate high point loads. The stamp size is precisely specified by the DVGW.
The point loading on a small area is significantly higher in relation to a surface loading. The housing is tested with 400 kN. A much higher load. Here the DVGW prescribes the size of the test stamp too. The DVGW strictly monitors compliance with the regulations. This is done by independent external test institutes that monitor our test methods, results and production. In order to guarantee the quality for the complete production batches, we carry out ongoing testing processes during production on a voluntary basis. With these test criteria, we simulate the loads on an installed surface box.
Check regulations:
DVGW test according to DIN 3580
Pressure load test with prescribed punch sizes
Load values cover 200 kN / housing 400 kN
Dimensional and functional test according to the respective DIN standards
External monitoring by a neutral testing institute
ongoing testing processes during manufacture
How to recognize this quality:
Test number cast in the lid
DVGW marking on the surface box base
DVGW certificate with test number

DVGW requirements and tests according to gas and water standards: