Services production center
From planning and development to on-time delivery – our technical planning office implements all specifications for the efficient production of your components. We always take into account the specific requirements of the product as well as the specified material properties. If required, we also design and produce protective and sales packaging for the produced components. Our logistics management takes care of the assembly of the components and the on-time delivery.
Development and construction
Development and production planning of components. Our technicians use modern programmes for CAD design and manufacturing control.
Protective and sales packaging.
If requested, also with your label.
Storehouse
Dry and weather-protected storage of material and commission goods.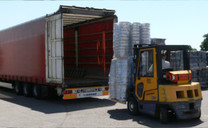 Logistic management
Demand-driven control of the flow of goods.